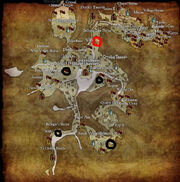 For this event you must find each of Bellegar's Shrines and kill the monsters he summons.
After killing the summoned monsters at all four of the main shrines (highlighted by the black), you must go to the final shrine (highlighted in red).
There Bellegar will summon all the monsters once again (a group each time) and if you manage to kill them again he will spawn a bunch of sacks containing loot.

The monsters summoned are:
Three Goblins
One Demon (defeat it for the quest The Greater Hunter)
Three skeletons
One Troll