Bleed is a skill that can be used by human characters. Once trained in this skill, it is always in effect.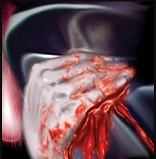 Skill Text: "Particularly vicious, bleed attacks have a chance of causing wounds that keep bleeding: so damaging the victim over time until the bleeding stops or he has leaked to death."
Note: The damage is based on the hit that "bled" the enemy and the amount of damage listed is done over the full duration, not per second.  e.g. A hit for 100 damage with Level 1 Bleed would do 10% of the total melee damage (10 damage total) over 10 seconds; not 10 damage per second for 10 seconds.
| Skill Level | Chance to Make Enemy Bleed on Hit (%) | Duration (seconds) | Damage Done Over Skill Duration (%) |
| --- | --- | --- | --- |
| 1 | 10 | 10 | 10 |
| 2 | 13 | 9 | 11 |
| 3 | 15 | 8 | 13 |
| 4 | 18 | 7 | 14 |
| 5 | 20 | 6 | 17 |
| 6 | 23 | 5 | 20 |
| 7 | 25 | 5 | 23 |
| 8 | 26 | 5 | 26 |
| 9 | 27 | 4 | 29 |
| 10 | 28 | 4 | 32 |
| 11 | 29 | 4 | 35 |
| 12 | 30 | 4 | 38 |
| 13 | 31 | 4 | 41 |
| 14 | 32 | 4 | 44 |
| 15 | 33 | 4 | 47 |