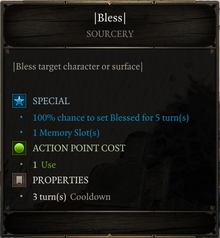 Bless is a Sourcery spell. Bless can be used to bless Characters, Surfaces or Clouds.
When applied to a Character Bless gives Blessed status effect which grants 10% Accuracy, 10% Dodge and 15% to All Resistances. Blessing Characters will also turn status effects into their Blessed counterparts (see below). Additionally Blessed Characters will Bless any surface they walk on, turning Cursed surfaces into their regular counterparts.
Example: Walking on a Cursed Water Surface will turn it into a Water Surface, if you keep walking it will turn into a Blessed Water Surface.
Blessed Water Surfaces apply instant Healing.
Blessed Blood Surfaces apply instant Healing.
Blessed Oil Surfaces apply Fortified for 1 turn, grants additional Physical Armor
Blessed Ice Surfaces apply Magic Shell for 1 turn, grants additional Magical Armor
Blessed Fire Surfaces
apply
Holy Fire
for 1 turn, grants 150% Fire Resistance and Immunity to Frozen, Burning, Chilled, Warm and Wet.
Blessed Poison Surfaces
apply
Regeneration
for 1 turn.
Blessed Smoke applies Invisibility for 1 turn and removes Silence.
Clouds will apply the same effect as their respective surfaces.