Confusion is a skill that can be used by human characters. Once trained in this skill, it is always in effect.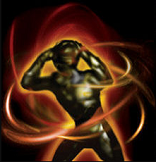 Skill Text: "This subtle but powerful skill adds a special ability to other sorceries you cast: each time one of your offensive spells hits an opponent, it has a chance of stunning that opponent for a while, stripping him of effectiveness in battle."
Note: The final level of this skill is hard to attain as it requires level 47.  Most players will not reach this level by the time the game is complete.
| Chance to Stun On Hit | Duration (seconds) |
| --- | --- |
| 5 | 2 |
| 6 | 3 |
| 7 | 3 |
| 8 | 4 |
| 9 | 5 |
| 10 | 7 |
| 11 | 8 |
| 12 | 8 |
| 13 | 9 |