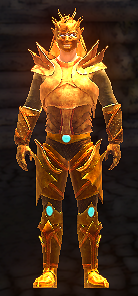 Description
Edit
This armor and weapon set is available only in the Dragon Knight Saga game.
It contains the following pieces:
Total Stats
Requirements: Level 35
+84 Melee AR
+46 Ranged AR
+16 Magic AR
Empty Charm Slot x6
Empty Armour Enchantment Slot x8
+10 to Spirit
+20 to Intelligence
+30 to Indomitable Will
Retribution Aura - 12% chance of automatic retaliations against those that harm you for 12% of the damage done to you.
Static Charge Aura - Enemies that harm you with weapons or magic have a 24% chance of suffering 1 shock(s) of 36 magic damage.
Dragon Wizard Helmet

Requirements: Level 35

+16 Melee AR
+5 Magic AR
Empty Charm Slot x3
Empty Enchantment Slot x2

Set Bonus

Pieces :
Bonus :
2
+5 to Intelligence
3
+10 to Intelligence
4
+15 to Intelligence
5
+20 to Intelligence
Dragon Wizard Cuirass

Requirements: Level 35

+22 Melee AR
Empty Charm Slot
Empty Enchantment Slot x2

Set Bonus

Pieces :
Bonus :
2
+10 to Melee AR
3
+15 to Melee AR
4
+20 to Melee AR
5
+30 to Melee AR
Dragon Wizard Bracers

Requirements: Level 35

+5 Melee AR
+11 Ranged AR
+11 Magic AR
Empty Charm Slot
Empty Enchantment Slot x2

Set Bonus

Pieces :
Bonus :
2
+10 to Indomitable Will
3
+15 to Indomitable Will
4
+20 to Indomitable Will
5
+30 to Indomitable Will
Dragon Wizard Leggings

Requirements: Level 35

+11 Melee AR
+5 Ranged AR
Empty Enchantment Slot x2

Set Bonus

Pieces :
Bonus :
2
+10 to Ranged AR
3
+15 to Ranged AR
4
+20 to Ranged AR
5
+30 to Ranged AR
Dragon Wizard Earrings

Requirements: Level 35

Empty Charm Slot
Retribution Aura - 12% chance of automatic retaliations against those that harm you for 12% of the damage done to you.
Static Charge Aura - Enemies that harm you with weapons or magic have a 24% chance of suffering 1 shock(s) of 36 magic damage.

Set Bonus

Pieces :
Bonus :
2
+5 to Spirit
3
+10 to Spirit
4
+15 to Spirit
5
+20 to Spirit
"Blessed by the Maxos rituals, Dragon Knights became natural beacons of magic: the powers of which – be it for creation or destruction, righteousness or mischief – they could use at will and whim. Soon, some of them not only let themselves be engulfed by the sources of sorcery, but wrapped them around their bodies: solidly embedded in blade and cuirass."
Locations
Edit