Fear is a skill that can be used by human characters.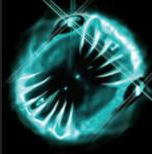 Skill Text: "Fear may paralyze you: block all functions, body and mind. But this is something different. This is fear that strikes at the very core of one's being, catapults one into a sickening frenzy and leaves the victim with no other impulse but to flee. In other words: you cast the spell and your enemies do a runner."
Note: All spells can be cast regardless of which items the player is holding.
| Skll Level | Highest Enemy Level Effected | Effect Radius (meters) | Duration (seconds) | Mana Cost | Cooldown (seconds) |
| --- | --- | --- | --- | --- | --- |
| 1 | 9 | 4 | 10 | 23 | 60 |
| 2 | 16 | 5 | 12 | 44 | 60 |
| 3 | 23 | 6 | 14 | 65 | 60 |
| 4 | 30 | 7 | 16 | 86 | 60 |
| 5 | 37 | 8 | 18 | 107 | 60 |
| 6 | 44 | 8 | 20 | 128 | 60 |
| 7 | 51 | 12 | 22 | 149 | 60 |