Fireball is a skill that can be used by human characters.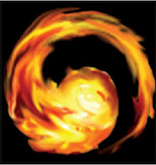 Skill Text: "Like a miniature Sun that burns the flesh from your enemies' bodies, you can hurl a single ball of fire towards an unfortunate foe from the tips of your fingers. Whereas many a wizard will acknowledge this as a basic spell, none will make the mistake of underestimating its deadly force."
Note: All spells can be cast regardless of which items the player is holding.
| Skill Level | Damage | Blast Radius (meters) | Chance to Ignite (%) | Mana Cost | Cooldown (seconds) |
| --- | --- | --- | --- | --- | --- |
| 1 | 8 | 5 | 1 | 14 | 15 |
| 2 | 23 | 5 | 2 | 21 | 15 |
| 3 | 47 | 5 | 3 | 30 | 15 |
| 4 | 68 | 5 | 4 | 38 | 15 |
| 5 | 195 | 5 | 5 | 45 | 15 |
| 6 | 278 | 8 | 6 | 52 | 15 |
| 7 | 342 | 8 | 7 | 57 | 15 |
| 8 | 455 | 8 | 8 | 64 | 15 |
| 9 | 540 | 8 | 9 | 69 | 15 |
| 10 | 878 | 8 | 10 | 76 | 15 |
| 11 | 1070 | 12 | 12 | 83 | 15 |
| 12 | 1208 | 12 | 14 | 88 | 15 |
| 13 | 1431 | 12 | 16 | 95 | 15 |
| 14 | 1592 | 12 | 18 | 100 | 15 |
| 15 | 1858 | 12 | 20 | 107 | 15 |