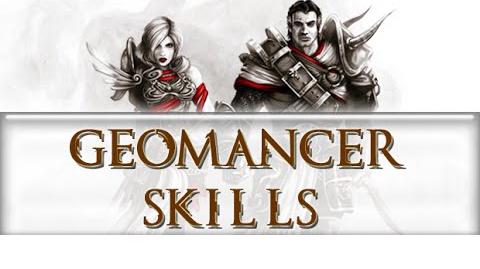 Dealing both Earth and Poison damage, Geomancers specialize in applying potent AoE
Knock DownsCannot Move or Act

Removed by:

Helping Hand , buffs and debuffs, and they have the largest variety of summons. A one level dip for anyone grants a spider of your level that is immune to poison and that can deal respectable damage, and Bless for against hard-to-hit bosses. Poison-based Geomancer spells tend to be weaker throughout the game due to the myriad of undead foes that all have extremely high Poison Resistance, but few enemies have significant resistance to Earth damage (they are handled differently).
Additionally, the Earth Elemental is the highest spell level summon. It is completely immune to poison and earth damage, and can cripple enemies on attacks.
Skill
Lvl Rq
Skill Lvl
AP
Min INT
Abil Lvl Req
Description
Acid Breath
10
12
8
11
3
Poison and damage multiple targets for X-Y poison damage(Cone area).
55% base chance to set

Poisoned

Poison Damage Over Time

Removed by:
Treat Poisoning .
Bless
4
3
3
8
1
Bless a target.
100% base chance to set

Blessed

+30% Chance to Hit

.
Blessed Earth
13
13
7
11
4
Bless allies around you.
100% base chance to set

Blessed

+30% Chance to Hit

.
Boulder Bash
4
6
6
9
2
A Boulder comes crashing from the sky. It does X-Y earth damage to anything within a 2.0m range from impact.
80% base chance to set

Knocked Down

Cannot Move or Act

Removed by:
Helping Hand
Boulder Dash
4
6
7
9
2
Throw a boulder in a straight line, hitting all for X-Y earth damage.
Deadly Spores
10
11
8
11
3
Launch multiple poisonous spores that deal X-Y poison damage each.
30% base chance to set

Poisoned

Poison Damage Over Time

Removed by:
Treat Poisoning
Earth Shield
7
7
5
9
2
Enhance self or ally with an earth shield.
100% base chance to set Shielded (Earth)Immune to

Poisoned


20% Chance to

Poison

Melee Attackers
+50% Poison Resistance
+50% Earth Resistance
-25% Air Resistance

Skill: Earth Shield
Earthquake
18
19
9
13
5
Smash the ground to cause an earthquake. Has a chance to knock down characters. Ooze may arise from the ground.
80% base chance to set

Knocked Down

Cannot Move or Act

Removed by:
Helping Hand .
Fortify
1
3
6
8
1
Give a target magical armour.
100% base chance to set

Fortified

+65 Armour

.
Immune to Poisoning
4
7
4
9
2
Make a target immune to being Poisoned.
100% base chance to set Immune to Poisoning
Magical Poison Arrow
7
9
6
10
3
Cast a poisonous magical arrow. Can target terrain to create ooze surface. Does X-Y poison damage.
70% base chance to set

Poisoned

Poison Damage Over Time

Removed by:
Treat Poisoning .
Magical Poison Dart
1
2
6
8
1
Cast a magical poisonous dart that does X-Y poison damage.
40% base chance to set

Poisoned

Poison Damage Over Time

Removed by:
Treat Poisoning .
Midnight Oil
1
2
3
8
1
Create an oil surface.
Applies

Slowed

-64 Movement
-4 Starting AP
-4 Maximum AP
-4 Recovery AP

Removed by:


Hasted

.
Nature's Curse
16
13
7
11
4
Curse enemies around you.
100% base chance to

Curse

-30% Chance to Hit

.
Petrifying Touch
7
8
3
10
2
Turn a nearby target to stone.
100% base chance to set

Petrified

Cannot Move or Act

Removed by:
Purifying Fire
Remove Petrification .
Summon Bloodswarm
13
13
7
11
4
Summon a swarm of Blood Wasps to control.
Blood Wasps have:
Chance to cause

Diseased

-3 Constitution
-2 Body Building

Removed by:
Cleansing Water
First Aid
Extremely high speed
Summon Earth Elemental
16
16
8
12
4
Summon an Earth Elemental to fight for you for a while.
Can cast Deadly Spores
Immune to

Knocked Down

Cannot Move or Act

Removed by:
Helping Hand
+200 Earth Resistance
+100 Poison Resistance
-50 Air Resistance
Summon Spider
1
2
6
8
1
A large spider joins you in battle.
Spiders have:
10% chance to

Poison

Poison Damage Over Time

Removed by:
Treat Poisoning enemies.
High

Poison

Poison Damage Over Time

Removed by:
Treat Poisoning resistance.
Immune to

Blind

Cannot target non-adjacent units

Removed by:
Cleansing Water
Doctor
Self Medicate .
Summon Wolf
10
10
7
10
3
Use your ties with nature and call forth a white wolf from the cold North.
Wolf has:
Chance to cause

Bleeding

Damage Over Time

Removed by:
Cleansing Water
First Aid
Self Medicate
Attacks of Opportunity
Immune to

Freeze

-20% Water Resistance
+40% Fire Resistance
+65 Armour
Cannot Move or Act

Removed by:
Purifying Fire


Burning


+100 Water Resistance
-50 Fire Resistance
| Ability Level | Talent Unlocked | Description |
| --- | --- | --- |
| 5 | Weatherproof | Makes you immune to environmental effects. (Note: Weather effects only; standing on different surfaces still affects you normally) |