Hide in Shadows is a skill that can be used by human characters.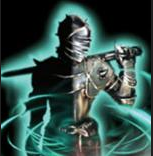 Skill Text: "Swinging broad axes, donning heavy armour, casting sorceries as the arrows whiz around your head, trying to make that precision shot as a howling troll with murder in its eyes stampedes towards you ... doing battle can be a grueling business. Which is why some prefer to give it a miss once in a while, as they become unified with the shadows, invisible to the naked eye. Because why would you go through the trouble of fighting, when you can simply bypass your oblivious opponents?"
Note: All spells can be cast regardless of which items the player is holding.
| Skill Level | Invisibility Duration (seconds) | Mana Drain (per second) | Mana Cost | Cooldown (second) |
| --- | --- | --- | --- | --- |
| 1 | 10 | 9 | 6 | 30 |
| 2 | 15 | 9 | 8 | 30 |
| 3 | 20 | 9 | 11 | 30 |
| 4 | 25 | 8 | 14 | 30 |
| 5 | 30 | 8 | 15 | 30 |
| 6 | 35 | 8 | 18 | 30 |
| 7 | 40 | 7 | 19 | 30 |
| 8 | 45 | 7 | 22 | 30 |
| 9 | 50 | 7 | 23 | 30 |
| 10 | 55 | 7 | 26 | 30 |
| 11 | 60 | 7 | 27 | 30 |
| 12 | 65 | 7 | 30 | 30 |
| 13 | 70 | 7 | 31 | 30 |
| 14 | 75 | 7 | 34 | 30 |
| 15 | 80 | 7 | 35 | 30 |