Rush Attack is a skill that can be used by human characters.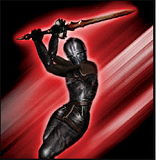 Skill Text: "During a rush attack you lash out at a single opponent, which causes severe wounds and most likely stuns him. The attack works well as an initial assault on ranged enemies especially. "
Note: If you are holding a ranged weapon, using a melee skill will instantly switch to an equipped melee weapon.
| Skill Level | Damage Multiplier | Stun Chance (%) | Mana Cost | Cooldown (seconds) |
| --- | --- | --- | --- | --- |
| 1 | 1 | 30 | 4 | 5 |
| 2 | 1.2 | 35 | 6 | 5 |
| 3 | 1.4 | 40 | 8 | 5 |
| 4 | 1.6 | 45 | 9 | 5 |
| 5 | 1.8 | 50 | 11 | 5 |
| 6 | 2 | 55 | 13 | 5 |
| 7 | 2.2 | 60 | 14 | 5 |
| 8 | 2.4 | 65 | 15 | 5 |
| 9 | 2.6 | 70 | 16 | 5 |
| 10 | 2.8 | 75 | 18 | 5 |
| 11 | 3 | 80 | 20 | 5 |
| 12 | 3.2 | 85 | 21 | 5 |
| 13 | 3.4 | 90 | 22 | 5 |
| 14 | 3.6 | 95 | 23 | 5 |
| 15 | 4 | 100 | 25 | 5 |