Stun Arrows is a skill that can be used by human characters.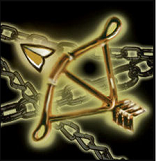 Skill Text: "Profiting from a temporary heightened concentration, you are able to shoot arrows with such precision and force that they stun any victim: leaving them immobile for a while. Scoring kills has never been easier."
Note: If you are holding a melee weapon, using a Ranger skill will instantly switch to an equipped ranged weapon.
| Skill Level | Stun Duration (seconds) | Mana Cost | Cooldown (seconds) |
| --- | --- | --- | --- |
| 1 | 4 | 14 | 20 |
| 2 | 5 | 18 | 20 |
| 3 | 6 | 22 | 19 |
| 4 | 7 | 27 | 19 |
| 5 | 8 | 30 | 18 |
| 6 | 9 | 34 | 18 |
| 7 | 10 | 36 | 17 |
| 8 | 11 | 40 | 17 |
| 9 | 12 | 43 | 16 |
| 10 | 13 | 47 | 16 |
| 11 | 14 | 50 | 15 |
| 12 | 15 | 54 | 15 |
| 13 | 16 | 56 | 15 |
| 14 | 17 | 60 | 15 |
| 15 | 18 | 63 | 15 |