The Fish Thief is a quest available in Divinity: Original Sin. The quest is triggered when you enter the Cyseal market from the West.
Walkthrough
Edit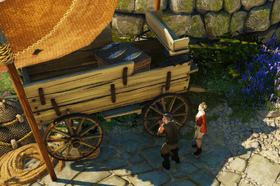 The quest has different outcomes depending on what you choose to say.
Stop the man from stealing the fish for +1 Righteous and +50 attitude with the fish vendor.
Convince him to steal the fish for +1 Renegade and another choice.
Tell the guard the thief paid for the fish for +1 Considerate.
Tell the guard that he stole the fish for +1 Blunt.
180 XP no matter what option you choose
+ 1 Righteous or +1 Renegade depending on whether you prevent or allow the man to steal the fish
+ 1 Considerate or +1 Blunt depending on whether you help the thief or tell the truth to the guard, provided you first convinced him to steal the fish
+ 50 attitude with the fish vendor if you prevent the thief from stealing the fish