Thousand Strikes is a skill that can be used by human characters.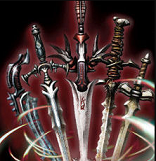 Skill Text: "With a combination of cat-like speed and accuracy, you strike at your adversary with a series of vicious cuts: leaving him to incredulously stare at the bodily extensions on the ground before he has had the time to realize where his bane came from. Fast and brutal, it is one of the best melee attacks a warrior can master."
(*) = The skill description leaves out one VERY important fact; thousand cuts skill makes the player attack six times.  Even at level 1 this is a 600% damage attack!
Note: If you are holding a ranged weapon, using a melee skill will instantly switch to an equipped melee weapon.
| Skill Level | Damage Multiplier (*) | Knockdown Chance(%) | Mana Cost | Cooldown (seconds) |
| --- | --- | --- | --- | --- |
| 1 | 1 | 10 | 118 | 15 |
| 2 | 1.1 | 15 | 136 | 15 |
| 3 | 1.2 | 20 | 148 | 15 |
| 4 | 1.2 | 25 | 160 | 15 |
| 5 | 1.3 | 30 | 166 | 15 |
| 6 | 1.3 | 35 | 178 | 15 |
| 7 | 1.4 | 40 | 190 | 15 |
| 8 | 1.4 | 45 | 196 | 15 |
| 9 | 1.5 | 50 | 208 | 15 |
| 10 | 1.5 | 55 | 220 | 15 |
| 11 | 1.6 | 60 | 226 | 20 |
| 12 | 1.7 | 65 | 238 | 20 |
| 13 | 1.8 | 70 | 250 | 20 |
| 14 | 1.9 | 75 | 256 | 20 |
| 15 | 2 | 80 | 268 | 20 |