Way of the Ranger is a skill that can be used by human characters.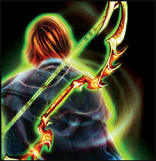 Skill Text: "Those born for the bow will get the most out of their specialty by choosing this skill, which will enhance all the stats that pertain to it."

Note: Bow damage is the base bow damage, not a bonus to bow damage.  Level 1 lets the player attack for 114% of their base damage; it does not add 114% more ranged damage.

Note: The Bow Damage bonus ONLY applied to physical damage; magic damage (blue number in parentheses) on the character sheet will not be increased.

Note: This skill can be used regardless of which items the player is holding.
| Skill Level | Bow Damage (%) | Ranged Armor Bonus | Heightened Reflexes Bonus | Melee Damage (%) | Melee Armor Rating | Duration (seconds) | Mana Cost | Cooldown (seconds) |
| --- | --- | --- | --- | --- | --- | --- | --- | --- |
| 1 | 114 | 3 | 2 | -70 | -42 | 45 | 49 | 30 |
| 2 | 138.5 | 6 | 4 | -65 | -39 | 45 | 53 | 30 |
| 3 | 166 | 9 | 6 | -60 | -36 | 45 | 57 | 30 |
| 4 | 180 | 12 | 8 | -55 | -33 | 45 | 59 | 30 |
| 5 | 211 | 15 | 10 | -50 | -30 | 45 | 63 | 30 |
| 6 | 292.5 | 18 | 12 | -45 | -27 | 90 | 65 | 30 |
| 7 | 313 | 21 | 14 | -40 | -24 | 90 | 67 | 30 |
| 8 | 356.5 | 24 | 16 | -35 | -21 | 90 | 71 | 30 |
| 9 | 378.5 | 27 | 18 | -30 | -18 | 90 | 73 | 30 |
| 10 | 402.5 | 30 | 20 | -25 | -15 | 90 | 75 | 30 |
| 11 | 451 | 33 | 22 | -20 | -12 | 120 | 79 | 30 |
| 12 | 477 | 36 | 24 | -15 | -9 | 120 | 81 | 30 |
| 13 | 503.5 | 39 | 26 | -10 | -6 | 120 | 83 | 30 |
| 14 | 560 | 42 | 28 | -5 | -3 | 120 | 87 | 30 |
| 15 | 588.5 | 45 | 30 | 0 | 0 | 120 | 89 | 30 |